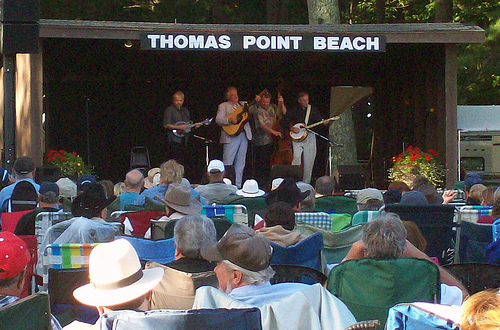 Woke up at 7 a.m., showered, had continental breakfast, and set off for Percy's Cycles, a nearby bike shop. We arrived at 9 and were met by Percy himself. Turns out the shop was closed—they had gone out of business the previous day! Percy was great and trued AM's wheel anyway—we were off!
We took the scenic route out of Portland (around Back Cove), took a slight detour on Veranda Street, and pedaled onto Route 1 North through Falmouth. We took a short break in Yarmouth for coffee, Vitamin water, and a few handfuls of trail mix.
We hit the road again, pausing briefly at National Bike & Ski in Freeport, where we bought an excellent new bike pump, just in case. As we biked on into the chaotic commercialism that is downtown Freeport, we were flagged down by a friendly-looking guy in bike clothes. He asked where we were headed, and we told him our ultimate destination was Bar Harbor, and that we were traveling up the coast. He and his wife live in Augusta right on a lake, and he said we were welcome to come stay with them. Apparently, they were in Freeport doing some health food shopping and marking the bike route for a charity ride his wife was organizing for the following weekend. We thanked him for his generous offer, but Augusta really wasn't on our route.
We continued on to the outlet stores, where we found an information booth and another super bike-friendly Mainer. She gave us perfect biking directions to the Thomas Point Beach Bluegrass Festival.
We took some beautiful back roads past farmstands, cows, and hay bales and continued past Bowdoin College into Brunswick. By this time, Jordan was ready to faint from hunger, and we chanced upon the 50s-style Morse's Drive In Lobster Shack. We had a shrimp roll and a haddock sandwich at the edge of a Bowdoin pine forest. Then we hopped back on the bikes and rode a few more miles to the turnoff for Thomas Point Beach and arrived at the bluegrass festival around 4 p.m.
"You're shitting me," said the security guard when we told him we had biked from Portland. He agreed to watch our bikes while we enjoyed the music. Our favorite act was Peter "Chopping Down the Trees for Jesus" Rowan. We stayed until 8 p.m. and rode to the New Meadows River Cottages in absolute darkness. Jordan only survived because AnnMarie suggested he swap his black fleece for his bright orange jacket.